Health System 100's mission is to help large regional health systems become exceptional in leadership, strategy and innovation, and to help the entire system move towards greater value.
Our rigorous safety measures include Covid testing every attendee twice regardless of vaccination status.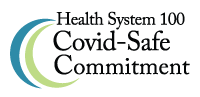 Executive Program
Our program addresses the new strategic priorities for large regional health in the face of Covid's persistence. Health systems have demonstrated tremendous resilience. Now the pressing question is, what has the pandemic changed? How have priorities shifted? Where must we push toward meaningful transformation – and how? And what previously unforeseen opportunities are emerging on the horizon?